This is My Body: Diocesan Eucharistic Congress, June 10 2023:
Save the Date: This is My Body: Diocesan Eucharistic Congress, June 10 2023: Bishop Barron invites YOU to register and participate in the diocese of Winona – Rochester Eucharistic Congress, "THIS IS MY BODY ", on June 10th, 2023, at the Mankato Civic Center, from 9:00 AM to 5:30 PM. There will be national speakers, musicians, service projects, children's activities, and concludes with the Mass and an Eucharistic procession. COME AND BE INSPIRED. We are so fortunate to live close to this event, and can join the many area Catholics in reviving our faith and renewing our belief in the Eucharist. For more information, and to register, visit the Diocesan website www.eucharist.dowr.org It is easy to use. Contact our parish "Galvanizers" if you have any questions, Connie Johns 507–327-6115 for Saint Clair, and Esther Ewert
612-382-6751 for Madison Lake.
Welcome
Welcome to our Website
Our mission is to invite all to strengthen their experience of the message and Spirit of Jesus and in partnership with the family, to create a Christ-centered learning environment which integrates our Catholic faith and supports the uniqueness of each person.
A Message from Father Schneider

We welcome all who join us on the web
Should you decide to view one of our services on the internet, you can follow along with the Breaking Bread 2023 eMissal app.
Please pray the prayer below.
Dear God
I believe that You are profoundly present in the Eucharist - in Your Word, the bread and wine become Your Body and Blood, and Your people gathered in prayer.
I love You above all things, and I desire to nurture Your presence in my life.
Since I cannot at this moment celebrate the Eucharist, I ask you to help me become more aware of Your pervasive presence in everyone and everything.
Humble me Lord that I may allow You to transform me and utilize me in the service of Your mission to recreate the world.
Help me Lord to always be open to Your wisdom and love that I may better embrace it and pay it forward to others.
Strengthen my faith that I may never suffer the illusion that You are not with me.
Amen.
And please Lord, guide those at war to seek peace!
All Saints Capital Campaign
At Mass on May 21 it was announced that All Saints Catholic Church is moving ahead with a capital campaign to fund construction of a connection between the church and school building, as well as enhancements to our church. We are calling this campaign Our Legacy of Faith – Building Our Future. The theme was created to communicate how this effort will enhance All Saints' future, as well as demonstrate our appreciation for the work of those who came before us.
For questions and Answers, click here
Campaign Chair
Richard Arians
Campaign Committee
Keri Evenson
Jen Fraze
Julie Hebenstreit
Jim Onken
Mike and Bev Peters
Campaign Consultants
Whitney & Michael Davy – Mark Davy & Associates
Campaign Prayer
Loving God,
We thank you for all you have done for us in building our legacy of faith. We ask for your continued love and guidance as we move forward with our capital campaign in building our future. Help us to be generous in caring for one another, in our prayers and in our gifts.
Together, we offer this prayer in Your Holy Name.
Amen
MASS Times
Immaculate Conception, St. Clair, Minnesota
Saturday at 4:00 PM
Sunday at 8:30 AM till June 25th, 2023
All Saints, Madison Lake, Minnesota
Sunday at 10:00 AM
All Masses are streamed and archived
Click below for the parish of your choice
to join Mass live or view later.
Watch Mass,Weddings and Funerals on Your Phone or Online!
Mass with the Monks
Church Support
Secure Online Giving - Please Help If You Can
If your income has not been affected by the virus, please consider making your weekly offering online at our website or mailing in your contribution to the parish office.
If you want to consider our online giving option which you can choose to give weekly, bi-weekly, monthly or one time donations.
Click HERE for Checking Account Donation to All Saints
Click HERE for Checking Account Donation to Immaculate Conception
Click HERE for Credit Card donation to either parish or to Annual Appeal
(507) 858-1276 If you would rather call to provide your credit card/debit card information,
Click here for a Thank You message from Bishop Quinn
NOTE: The first time click on Set up a New Account and follow directions.
After that you can have it automatically paid according to your wishes.
If you wish to mail in your contributions, here are the mailing addresses.
All Saints, PO BOX 217, Madison Lake, MN 56063
Immaculate Conception, PO BOX 100, St. Clair, MN 56080
Weekly Readings
Weekly reading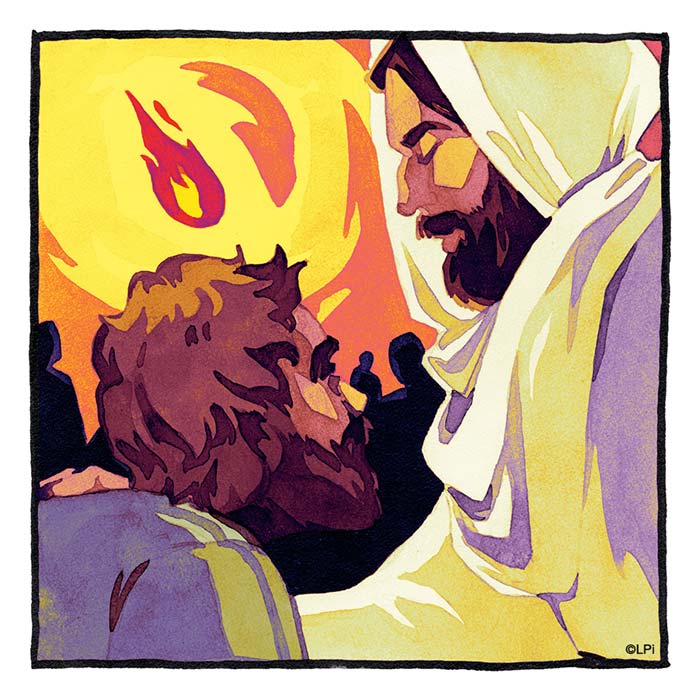 © Liturgical Publications Inc